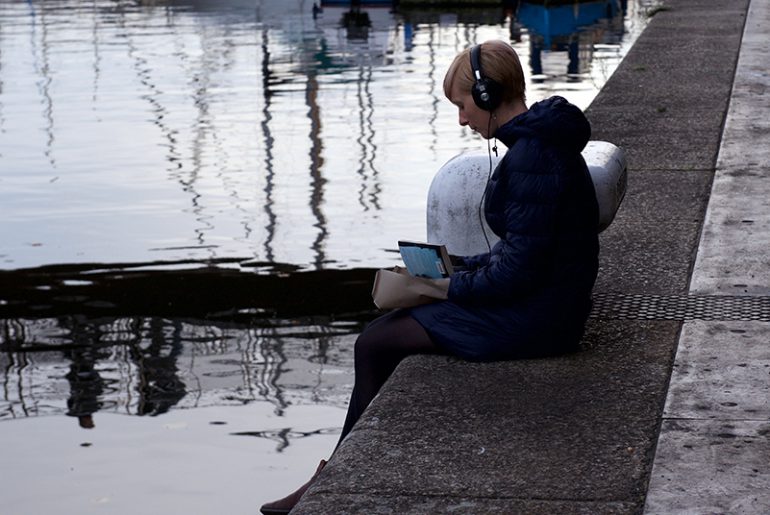 A week ago, the Ambient Literature team, working with Circumstance, premiered the second in our series of small experiments in form for Ambient works. The files and content will be up on the website in the next few weeks, but for now, I wanted to share an initial thought on something the piece brought to light.
Attention
Conventional fiction — the short story for example — is built on a word count. Writing defines a short story by length. Wikipedia (helpfully or not) suggests that a short story is "a piece of prose fiction that can be read in one sitting." Generally, short fiction is something between 3 and 9 thousand words. A single sitting is, maybe, ten to twenty minutes. Perhaps a little longer. When I was writing yesterday you're still dreaming I had a time limit in my mind — twenty minutes — as a guide to how to construct the piece. Twenty minutes of listening suggested when to introduce central ideas, when to shift attention and refocus. That works, to an extent, and while this is a different platform to tell a story within, you have to start from somewhere, so time was (and still is) a reasonable foundation.
But is time actually such a useful measure? Eli Horowitz' Homecoming premiered this week — it's a fictional podcast, and is playing gently with form and the situation of the listener in interesting ways. In the middle of this New York Times piece is a useful, and apposite observation:
. . . in a densely plotted fiction series, 15 seconds can mean missing a central plot point. In piloting the series, Gimlet found that its scripts were initially too long to expect listeners to sustain that level of attention. Episodes of "Homecoming" now clock in under 30 minutes.

"We're trying to explore what the form can be," Mr. Horowitz said, "while also trying to be conscious of what it is now."
We read on paper very differently to the way we hear. Our eyes scan around a page, and go back and forth as we want to, clarifying and checking words, character details — whatever we need to. Audio delivery — as mandated by the form it takes; a continuous delivery of language and music — closes off those aspects of scanning and reading. We go forward, and we're placed so deeply in the moment, that it feels wrong to stop and go back. One piece of feedback from the weekend addressed exactly that point — that even within a work that immersed each reader, the world outside could distract for enough time that key moments might be missed.
What yesterday you're still dreaming demonstrates to me is that we need a different approach to dramatic form, to understand and construct progression from each piece of the story to the next. Word count or time aren't useful by themselves. I've used the concept of transposition for some time to think about how we approach writing for new platforms. Transposition of music from one key to another changes the piece in the ear of a listener. This often links to the vocal range an individual voice has, for example. The same song sung by an alto voice needs adjustment for a baritone. Personally. I think there's an equivalent movement from, for example, a story written for paper to one written for audio. These shifts aren't just about language, or perspective; they mean we have to rethink some underlying notions of how story works.
— Tom Abba