Composed by Tom Abba and Duncan Speakman
with Emilie Grenier, Nick Harkaway and Neil Gaiman
These Pages Fall Like Ash tells a story that weaves between an apparently conventional print book and a digital, ephemeral text emerging from the streets around you. The work is an immersive story told across time, place and the pages of two books. By leaving your home and exploring the streets and places around you, you bring books and story together to create an experience that is unique to you but also shared with thousands of others.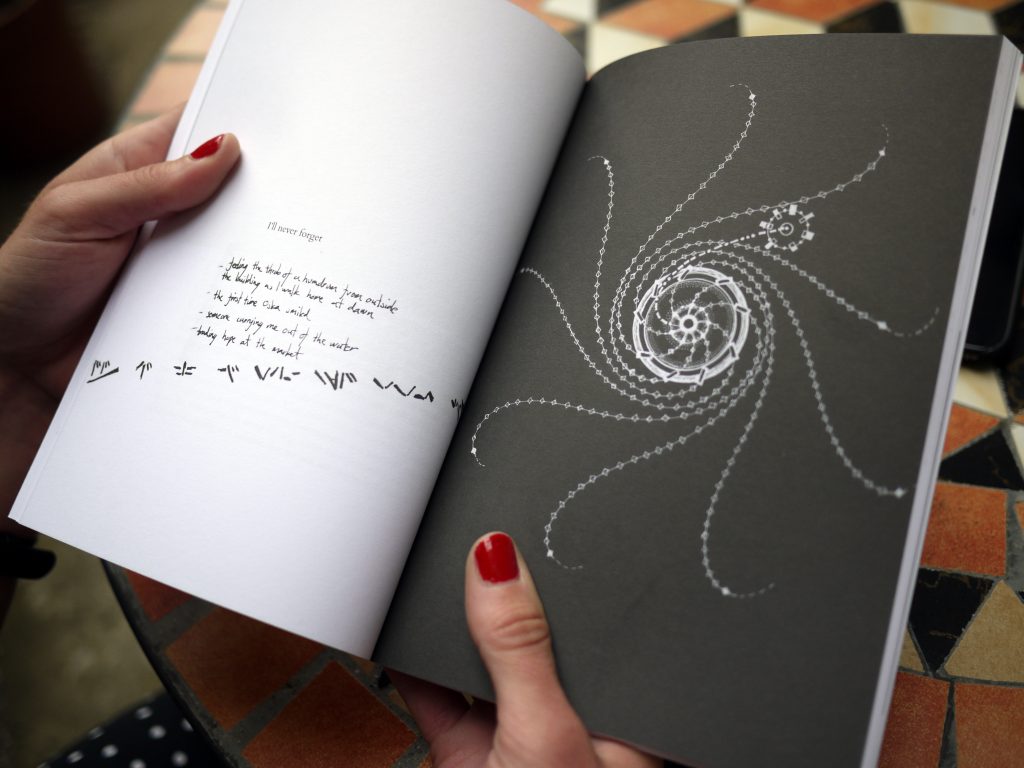 Background:
In January 2013, Duncan Speakman, Emilie Grenier and Tom Abba sat down and made a piece of work with Neil Gaiman and Nick Harkaway.
That was the first edition of These Pages Fall Like Ash. A story told between two books, and about two worlds. About the space between them, and about two people who had lost each other, and needed to be found again. About a real city and a fictional one that exists alongside it. 

We made a limited run of 200 beautiful (they were, really) wooden books, and ran the whole story for three weeks in late Spring. Every book sold out within 2 days of the start, and we had some amazing responses:
A delicious and intimate journey through realities. With my wooden book and phone in my palm I became the anchor for the finest string of spider's silk connecting me to a world that was hiding just beyond the veil.'

'..feeling mildly paranoid, reading about a city you can only see out of the corner of your eye when you're not looking for it and not being quite sure what city I was in. There was a power in reading a story in those settings.'

'I had my eyes opened, I paused and stories came to me. I felt calm but my mind was on fire'
These Pages asked each reader to read in specific locations – you were guided around a city, experiencing the story we'd written as you stood in specific places. You read dialogue between two characters who'd forgotten the other existed, saw the reality of a city begin to crumble and never, possibly, be absolutely sure that the city you stood in wasn't really a fiction.
Then we closed it down, took the content offline, said thankyou to our readers, and began to think about how we could make it work anywhere. The thing with the first version was that it was specific to Bristol. It was an experiment in form and content, and that was necessarily constrained. The second edition, if there was going to be one, had to be site-responsive (there's something completely delightful about knowing exactly where your reader is stood. Evoking a drowned city as they stand forty feet above a harbour), but not site-specific. We had to rewrite it so that it didn't matter whether you were in Berlin, Brighton or Brussels; you'd get the same story, and in the same – or practically speaking, the same – places.
So that's what we did.
These Pages Fall Like Ash isn't strictly speaking an Ambient Literature project. The original edition of the work predates the programme of research we began here in 2016, but without a doubt, it inspired the genesis of the project. Without These Pages, Ambient Literature wouldn't exist.